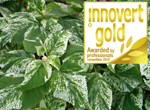 We are pleased to announce that our Japanese Hydrangea vine BURST OF LIGHT was awarded a gold medal at the exhibition Salon du Végétal 2018 in Nantes, France.
We would like to express our gratitude to the juryfor acknowledging this beautiful and extremely useful variety, perfect for illuminating shaded corners of the garden.
More about plant...
More about Innovert contest...