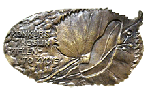 We are proud to inform you that our nursery was awarded a silver medal for the newest Clematis alpina 'Stolwijk Gold' PBR, and an honorable mention for the Clematis 'Nina' at the 17th edition of the "Green is Life" 2010 International Exhibition held on August 27-29 in Warsaw.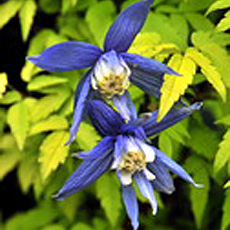 Clematis alpina 'Stolwijk Gold' PBR – a bronze medal. The first Clematis variety with golden-yellow leaves. Handsome contrasting violet-blue, bell-shaped, wide-opening flowers, 5 – 6 cm across, are composed of 4 – 8 lanceolate tepals. It blooms in late April and May and repeats flowering in summer but the crop is scarce. From June to autumn fancy fluffy seed heads adorn the plant. It grows 2-3 m high and clings to its support by twining leaf stalks.

Very frost hardy and undemanding. It tolerates partial shade but the variegation is more prominent in full sun. Particularly useful for growing on fences, stones, old tree stumps, deciduous and coniferous shrubs. Makes good ground cover.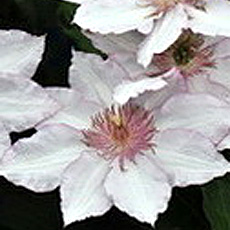 Clematis 'Nina' – an honorable mention

A charming Polish variety bred by Stefan Franczak. Flowers of 17-19 cm in diameter are most often composed of 8 oval, pale pink, shaded tepals with slightly wavy, deep pink edges and a prominent midrib. Handsome stamens have pink anthers on white-pink filaments. It blooms from late May to September and reaches a height of 2m climbing by means of twining leaf stalks.

Useful for growing on fences, arbours, trellises, sticks and other garden supports. It can climb up natural supports, such as deciduous and coniferous bushes or dwarf shrubs that don't require hard pruning. It looks lovely against a dark background. Suitable for container growing.


| | |
| --- | --- |
| ph. Monika Pawlonka (Agencja Promocji Zieleni) | ph. Monika Pawlonka (Agencja Promocji Zieleni) |