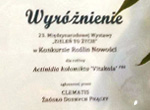 On the 3rd September 2015 at the 23. International Exhibition Green is Life  the Actinidia kolomikta 'Vitakola'PBR we entered in the contest, received honourable mention in  the plant novelty category.
Actinidia kolomikta 'Vitakola'PBR is a new outstanding female cultivar of exceptionally large fruit.  Its ornamental leaves and lemon scented flower enhance its appeal.
The honourable mention was awarded as a recognition of  the cultivar's plentifulness and frost hardiness as well as for the largest fruit noted worldwide in Actinidia kolomikta.
Along with 'Vitakola'PBR cultivar, we presented at the exhibition also two new cultivars of Actinidia arguta and other attractive novelties on our nursery's offer.