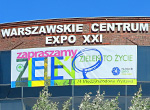 Between 1st and 3rd September 2016 we participated in the 24th International Fair Green is Life in Warsaw.


During the opening ceremony the novelty contest results were announced. We received the honourable mention for Goji berry (Lycium barbarum) AMBER SWEET GOJI®. This outstanding new cultivar yields fruit of unique, amber yellow colouring, larger and sweeter than usual in the species.
At our stand also other novelties on our offer were presented: Japanese hydrangea vine BURST OF LIGHT®, own-raised Clematis cultivars 'Change of Heart'PBR and 'Copernicus'PBR, climbing and groundcover roses, ornamental Northern California grape 'Roger's Red', two wisteria cultivars of increased hardiness as well as new fruit plants – chokeberries, blackberries and sea buckthorn. More about novelties…
We also presented the new way of exhibiting our plants in colour-coded containers. Since summer 2016 we keep our plants in 2-litre containers of eleven different colours. Each colour indicates the flower colouring of Clematis or other plants that produce decorative flowers, or the fruit colouring or other characteristics of the plant. Our most precious cultivars are placed in silver and golden containers.
It is also with great pleasure that we announce the choice of this year Honourable Green Laurel by The Polish Nurserymen Association. It was granted to Jacek Borowski, professor at the Warsaw University of Life Sciences, in acknowledgement of his activities for improvement the public and institutional greenery  as well as special achievements in climbers promotion. Congratulations!
Heartfelt thanks to all visitors at our stand. We were happy to meet you in such pleasant atmosphere. See you next year!