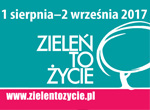 We're happy to present the photo report of the exhibition that took place between 31st August and 2nd September 2017 in Warsaw's EXPO XXI Centre, Prądzyńskiego St. 12/14.
The 25th Green Is Life Exhibition began by announcing competitions' results. We proudly inform that our plant catalogue for 2017-2018 received the Green Laurel (more about the Catalogue…) The diploma and the statue were received by Szczepan Marczyński Sc.D. Moreover, our 'Taiga'PBR cultivar, came second in the novelty contest. The silver medal was received by the nursery's co-owner, director of sales and marketing department, Mr Andrzej Gruszczyński.
This year saw the 25th anniversary of Szczepan Marczyński's plant breeding enterprise. At the stall we presented all his own-raised cultivars. Their names are often of special importance to the breeder. They are, for example, the names of the most important women in his life – Barbara, Hania, Julka, Kaśka; the names of his favourite Polish regions – Bieszczady, Mazowsze, Mazury; or the names honouring Polish history, tradition and the Polish men and women of special merit -  Grunwald, Jerzy Popiełuszko, Krakowiak, Maria Skłodowska-Curie, Solidarność, Vistula, Viva Polonia and many others.
The first day of the exhibition witnessed a celebration of the name-giving of the two latest cultivars raised by Szczepan Marczyński. The seedlings received names:  'Maria Kaczyńska' for Clematis of white flowers and 'Lech Kaczyński' for the one with purple-violet bloom. The ceremonial unveiling and naming of the new cultivars was performed by the President of the Polish Dendrology Society, prof. Jacek Borowski.
A letter of thanks for commemorating the late presidential couple was sent to Szczepan Marczyński by Jarosław Kaczyński, the President of Law and Justice party.
At the stand one could see many awaited novelties from our offer, e.g. Clematis 'Kaśka', both ground cover and climbing roses in bloom, wisterias, fruit vines (a selection of cultivars suitable for amateur cultivation in Poland), hip rose 'Karpatia', oleasters of POINTILLA® type yielding edible, healthy fruit, edible dogwood, Saskatoon serviceberries, quince (the complete list of 2017 novelties).
Beside the plants we presented sale supporting accessories for gardening centres - the awarded plant catalogue, special gift bags and metal display racks.
It's the second time that Green Is Life Exhibition featured the cut flowers and potted plants sector, named Flower Expo Poland. We found some exquisite bouquets there that included Clematis.
The sale of the plants during the exhibition was held at the fairground in front of the main entrance. Our stall at the fair was very popular with the customers.
We would like to thank everyone who came to the exhibition and congratulate the organizers on the successful jubilee. We hope to see all visitors again at the next edition of Green Is Life fair that is set for 6-8 September 2018.