Early-flowered
Clematis 'Lech Kaczyński'
Clematis 'Lech Kaczyński'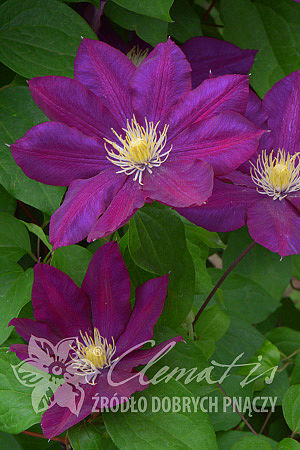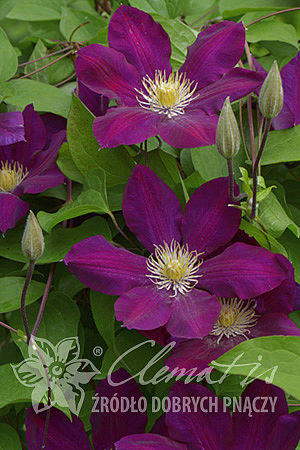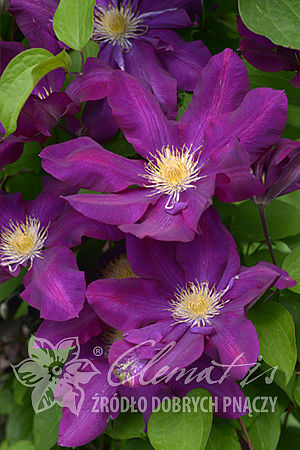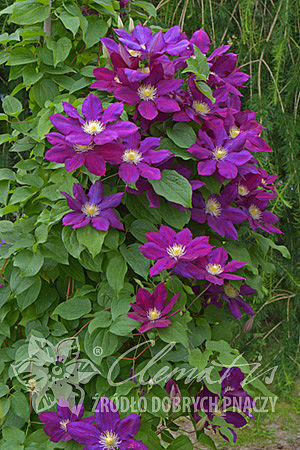 Early-flowered
Clematis 'Lech Kaczyński'
Clematis 'Lech Kaczyński'
Color of flowers
Plants height
1.7-2 m
Flowers size
big
Flowering month

VI, VII, VIII

VI, VII, VIII
Aspect
S, E, W
Pruning way
2 (light)
Frost hardiness

4 - 9

Zones 4 - 9
Polish cultivar of purple-violet, velvety flowers. Suitable especially for small gardens and for container cultivation in balconies and terraces. It looks particularly attractive against light-coloured background.
---
WHAT IT LOOKS LIKE: Flowers 12-16 cm across, consisting of 8-15 elliptic sepals of smooth edges, deep violet-purple, velvety on the top; purple underneath. They turn violet towards the end of the blooming period. Stamens consist of yellow anthers on creamy filaments, pistils are bright yellow. Free flowering in VI-VII, continues moderately throughout VIII. Leaves compound, of three elliptic, pointy leaflets with 3-5 little dents, matt, light green when new, darkening as the season progresses. Robust shoots with short internodes, light green when new and brown when mature.
HOW IT GROWS: A climber; uses leaf tendrils; Reaches 1.7-2 m height.
WHERE TO PLANT: Prefers well-lit but not overheated sites. Blooms most abundantly in fertile, humous, moist but well-drained soil (not waterlogged). Tolerates average soil if fertilized. The preferred soil pH is from alkaline neutral to slightly acidic. Frost hardy (zone 4-9).
HOW TO PLANT AND MAINTAIN: Plant in a hole (60 x 60 x 60 cm) dug in fertile soil with a 10-cm drainage layer at the bottom, 5-10 cm deeper than it was in the container. In spring the plant needs hard pruning at ca. 50 cm to remove damaged and dead shoots. Fertilize with slow-release fertilizer (e.g. Osmocote 5-6M) in mid-April. Water throughout the season.
HOW TO APPLY: Perfectly suited for growing along lower garden supports, also by rose bushes and other shrubs and conifers. It will grow well in containers in balconies and terraces. Looks particularly attractive against light background.
ORIGIN: Raised by Szczepan Marczyński, Poland 2004. On sale since 2017.