haskap (blue honeysuckle, honeyberry) 'Vostorg'
Lonicera kamtschatica 'Vostorg'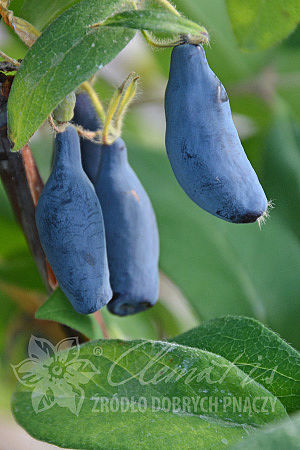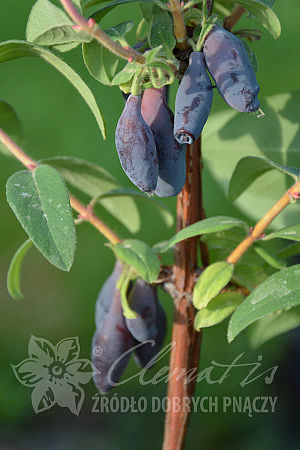 haskap (blue honeysuckle, honeyberry) 'Vostorg'
Lonicera kamtschatica 'Vostorg'
Decoration form
Color of flowers
pale yellow
Flowering month

III, IV

III, IV
Evergreen plant
no
Density on 1 m2
1
Annual growth
0.2-0.5 m
Aspect
, ,
Frost hardiness

3 - 7

Zones 3 - 7
A shrub yielding tasty, sour-sweet berries ripening in May and June. First fruit set in the 2nd or 3rd year after planting. Long-lived and frost hardy. Recommended for amateur cultivation in domestic gardens.
---
WHAT IT LOOKS LIKE: Fruit oblong, dark-blue, fusiform with a delicate waxy film; very tasty, sour-sweet, devoid of any bitter aftertaste; ripen May-June. Plants yield fruit in the 2nd or 3rd year after planting. Flowers are modest, pale yellow, rich in nectar, borne in March-April. The plant requires cross pollination therefore Lonicera yields fruit best when planted in a vicinity of other varieties of this species. Its upright shoots are green when new and turn brown as they mature.
HOW IT GROWS: A shrub of an upright, round habit. Moderate growth rate, maximum height 1.8 m (0.5 per year).
WHERE TO PLANT: Yields fruit best when planted in light and penetrable soil, of slightly acidic pH. Does not require acidifying of the soil as opposed to e.g. highbush blueberry. Unlikely subject to pest and disease. Fully frost hardy (zone 3–7). Sensitive to draughts due to its shallow root system.
HOW TO PLANT AND MAINTAIN: Before planting immerse the plant container in water for 10-30 min. Place the root ball in a 40 x 40 x 40 cm hole with a 10 cm layer of well-rotten manure or compost, 0.5-1 cm deeper than it was before. Fill the hole with fertile soil. The plant does not require regular pruning. After a couple of years when the shrub becomes dense, thinning is recommended. Excessive pruning will limit fruition.
HOW TO APPLY: The shrub is recommended for amateur cultivation in domestic gardens. Its berries are a valuable component of diet - rich in vitamins, macro and microelements (magnesium, iron, copper and iodine) they contain anthocyanins and ascorbic acid. They have antioxidant, anti-inflammatory and antiseptic properties. Delicious when eaten raw, excellent as an addition to jams, juice or tinctures. May be used as a natural red food dye.
ORIGIN: Russia.