Cherry 'Carmine Jewel'
Prunus 'Carmine Jewel'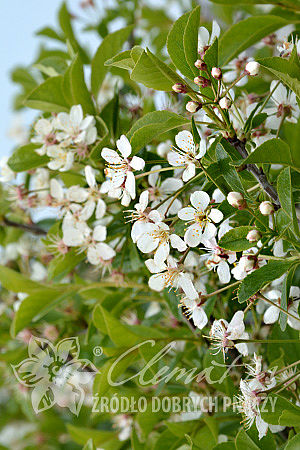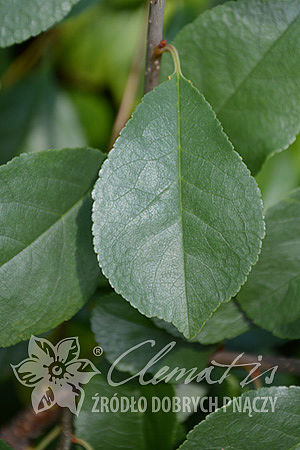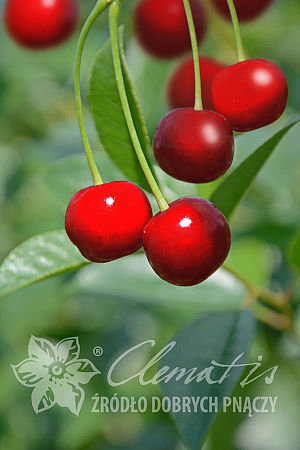 Cherry 'Carmine Jewel'
Prunus 'Carmine Jewel'
Decoration form
flowers and fruits
Color of flowers
white
Flowering month

IV

IV
Evergreen plant
no
Density on 1 m2
1
Annual growth
Aspect
, ,
Frost hardiness

3 - 8

Zones 3 - 8
A prettily flowering fruit shrub. In the spring it is showered with white blossoms. Also recommended for its tasty fruit ripening in July. Suitable for container cultivation.
---
WHAT IT LOOKS LIKE: Juicy, large fruit (1.5 cm, 3.5 g on average), shiny, dark red, rich in sugar, tasty with a delicate sour note. Dark red flesh, thin skin, small and easily detached stone. They do not fall to the ground, and the yield from a few-years-old tree is 10-12 kg. The fruits ripen in July. White or slightly pink flowers, 2.5 cm in diameter, decorative, appear in May. Small leaves (4-6 cm long), lanceolate, smooth, shiny, serrated, light green.
HOW IT GROWS: a shrub or small tree, grows up to 2 m.
WHERE TO PLANT: Undemanding plant. It grows and fruits well in sunny locations. Tolerates average, well-drained, neutral or slightly acidic soil. Fully hardy (zone 2A-7).
HOW TO PLANT AND GROW: Before planting, immerse the potted plant in a water-filled container for 10-30 min. Place the plant in a 60 x 60 x 60 cm pit, with a 10-cm layer of well-rotten manure at the bottom. Fill the pit with fertile compost soil. Flatten the ground around the base of the plant and cover with mulch. Place the plant in the ground at the same depth as it was in the pot. Fertilize from April and water according to the needs during vegetation season. Regular pruning is not necessary. After a few years, when the plant thickens considerably, a thinning may be required. Excessive pruning reduces the yield.
HOW TO APPLY: A decorative shrub of universal application. Easy to grow, it tolerates both air pollution in urban environment and poor soil. Fruits are recommended for raw consumption or for the preparation of preserves. Perfect for making liqueurs and tinctures due to of their burgundy color and sweet and sour taste.
ORIGIN: Selected in 1999 at the University of Saskatchewan, Canada.