Atragene Group
Clematis 'Golden Dream'PBR
Clematis 'Golden Dream'PBR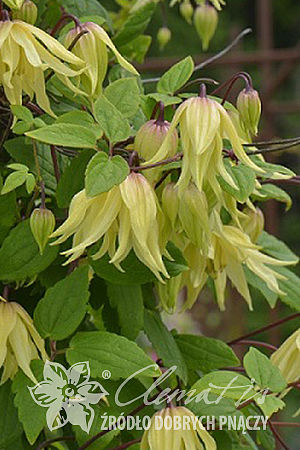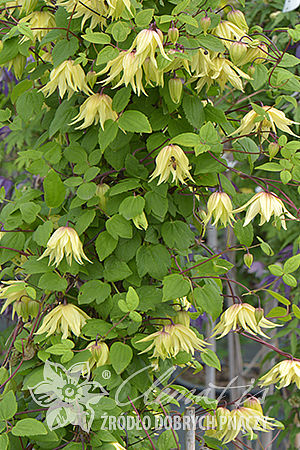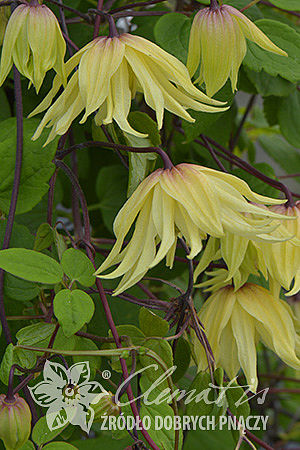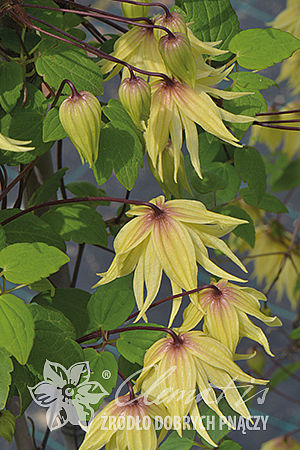 Atragene Group
Clematis 'Golden Dream'PBR
Clematis 'Golden Dream'PBR
Color of flowers
yellow, fragrant
Plants height
2-3 m
Flowers size
medium
Flowering month

V, VI, VII, VIII

V, VI, VII, VIII
Aspect
S, E, W
Pruning way
1 (none)
Frost hardiness

4 - 9

Zones 4 - 9
A beautiful Polish cultivar bearing always semi-double and double, lime-yellow and bell-shaped flowers, smelling of grapefruit. It blooms most abundantly in May and then continues less profusely until August. In the garden, it can grow by different types of supports or can be intertwined with other deciduous and coniferous shrubs.
WHAT IT LOOKS LIKE: Medium-sized flowers (large for the Atragene group), 7˗9 cm in diameter, semi-double and double, overhanging, set on purple pedicels, lime-yellow; during fading they turn stronger yellow, and at the base of the flowers a burgundy coloring appears along the innervation. Pleasantly grapefruit-scented. Flowers consist of 4 lanceolate, slightly wavy, pointed sepals and of 10-25 staminodia. The staminodia are pointed and elongated, they may be longer than the outer sepals, all their tips are raised. Stamens have yellow anthers on lime-yellow filaments and a yellow pistil. The cultivar blooms most abundantly in May but continues to bloom (less profusely) until August. Dark green, matt, smooth, compound trifoliate leaves.
HOW IT GROWS: A climber; climbs by means of petioles. It grows moderately strongly up to 2-3 m high.
WHERE TO PLANT: It likes well-lit, but not heated locations. Tolerates partial shade. Grows best on moderately fertile, moderately moist, well-drained soils. Soil pH should be neutral to slightly acidic. Hardy (zone 4˗9).
HOW TO PLANT AND GROW: The plant should be placed in a hole (60 x 60 x 60 cm) in fertile soil and a 10 cm layer of drainage at the bottom, 0.5-1 cm deeper than it was planted before (planting tutorial). It is easy to grow. No pruning is required. Only when it spreads excessively, it could be pruned shortly after flowering in May (pruning tutorial). Watering required during the vegetation period.
HOW TO APPLY: Particularly useful for growing over fences, garden supports, stones, old trunks, deciduous or coniferous shrubs. May be used as a ground cover.
ORIGIN: Raised by Szczepan Marczyński, Poland. On sale from 2020. More about cultivars from our nursery...
AWARDS: Bronze medal, Green of Life 2020, Poland, Press Awardm, Green is Life 2020, Poland;
SIMILAR CULTIVARS: 'Lemon Dream'
PBR - reproduction and production without a license is prohibited. License number TO 2041