Hardy kiwi HOKEY POKEY®
Actinidia arguta HOKEY POKEY®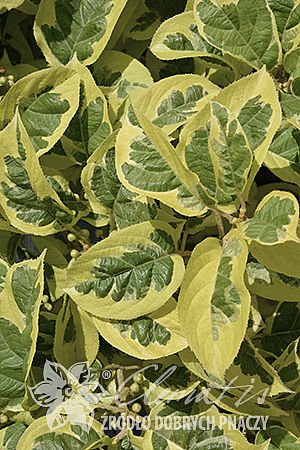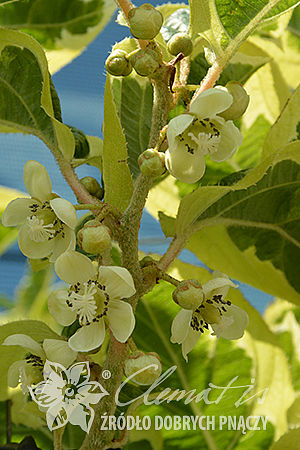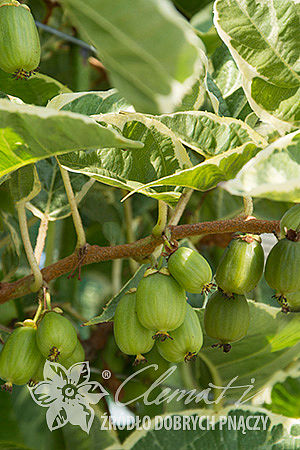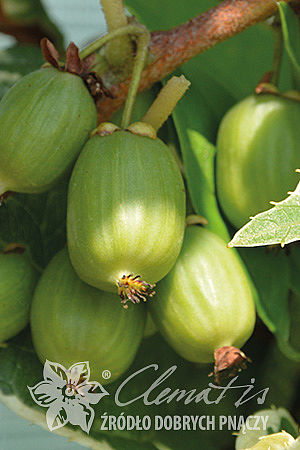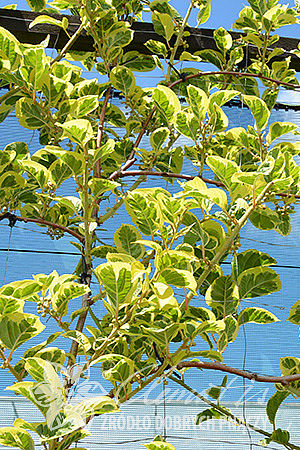 Hardy kiwi HOKEY POKEY®
Actinidia arguta HOKEY POKEY®
Decoration form
jadalne owoce, liście
Flowering month

VI

VI
Evergreen plant
no
Density on 1 m2
Annual growth
0.5-1 m
Aspect
, ,
Frost hardiness

6B - 8

Zones 6B - 8
A Polish, self-pollinating cultivar with decorative, green leaves of an irregular lemon yellow margin. The fruit tastes like kiwi with a hint of lemon. Its ripen at the end of September and October. Particularly suitable for growing in home gardens.
WHAT IT LOOKS LIKE: Oval, small or medium-sized fruit, approx. 2 cm long and 1.5 cm wide, oval, green berries, edible, tasty, with kiwi flavor and a lemon tang. Fruits stay on shoots after ripening. They can be eaten with the skin. Ripen at the turn of September and October. Begins fruiting in 2nd˗3rd year. It is a self-pollinating cultivar. Small flowers, 1-2 cm in diameter, white, appear in June. Broad lanceolate, green leaves with an irregular lemon yellow margin, matt, 5-10 cm long, 2-4 cm wide; in autumn turn yellow. Curling shoots.
HOW IT GROWS: A climber; its shoots twine around supports. It grows slowly, reaching 4 m in height, with average growth rate 0.5-1 m a year.
WHERE TO PLANT: It requires warm, sheltered, light but not overheated location and moist, well-drained, fertile soil. Withstands frosts up to approx. ˗22 ° C (zone 6B˗8). Sensitive to frost during vegetation.
HOW TO PLANT AND GROW: Before planting, immerse the potted plant in water for 10-30 min. Place it in a 40 x 40 x 40 cm hole, on top of a 10-cm layer of well-rotten manure or compost soil spread at the bottom, 0.5-1 cm deeper than it was planted before. Fill the hole with fertile soil. The plant should be placed at least 30 cm from walls or other plants. It is easy to grow. Prune in late autumn or winter in January-February (actinidia pruning and training video tutorial).
HOW TO APPLY: Suitable for planting by various supports, arbors, pergolas and wire mesh fences. They can be trained along wires stretched between poles. The cultivar is particularly useful for home gardens and allotments. Thanks to its variegated leaves and tasty fruit, it possesses both decorative and functional qualities.
ORIGIN: The cultivar selected in Clematis Source of Good Climbers in Pruszków, Poland. Launched in 2020.
AWARDS: Gold medal, Green is life 2020, Poland.