Atragene Group
Clematis 'Blue Surprise'
Clematis 'Blue Surprise'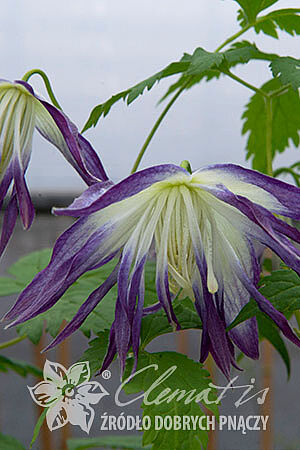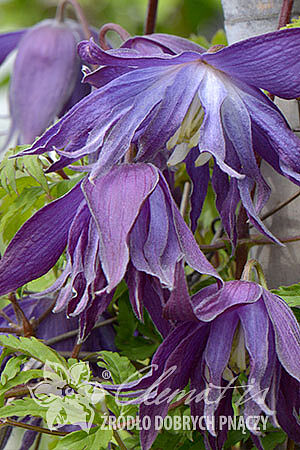 Atragene Group
Clematis 'Blue Surprise'
Clematis 'Blue Surprise'
Color of flowers
violet-blue
Plants height
2.5-3 m
Flowers size
medium
Flowering month

V, VII, VIII

V, VII, VIII
Aspect
S, E, W
Pruning way
1 (none)
Frost hardiness

4 - 9

Zones 4 - 9
An intriguing, new Polish cultivar producing always double or semi-double flowers, violet-blue, white at the base and bell-shaped. The peak bloom occurs in May and June. It may grow along various garden supports or interlace with shrubs, both deciduous and coniferous.
---
WHAT IT LOOKS LIKE: Medium-sized flowers (large compared to other Atragene cultivars), 7-9 cm in diameter, double or semi-double, blue-violet, white at the base, bell-shaped. They consist of 4 slightly wavy, pointy sepals and 12-26 staminodes. Stamens have yellow anthers on creamy-greenish filaments. The peak bloom occurs in May and June. Leaves are compound, trifoliate with serrated margins.
HOW IT GROWS: Climber; uses leaf petioles to cling to supports. Moderately strong-growing. Reaches 2.5˗3 m height.
WHERE TO PLANT: Prefers well-lit but not overheated sites. Tolerates semi-shade. Thrives in average, moderately moist and well-drained soil. The soil pH should range from neutral to slightly acidic. Hardy (zone 4-9).
HOW TO PLANT AND GROW: The plant should be placed in a pit (60 x 60 x 60 cm) with fertile soil and a 10 cm draining layer at the bottom, 0.5-1 cm deeper than it was in the container (planting tutorial). The cultivar is easy to grow. Does not require pruning. If it spreads too widely, it may be cut back right after blooming, in May/June (pruning tutorial).
HOW TO APPLY: Particularly suitable for planting by fences, garden supports, rocks, old tree trunks as well as deciduous or coniferous shrubs. It may be used as a ground cover.
ORIGIN: Poland. Raised by Szczepan Marczyński. On sale from 2021. More about cultivars raised in our nursery ...