Atragene Group
Clematis LUMINOUS® DUSK
Clematis LUMINOUS® DUSK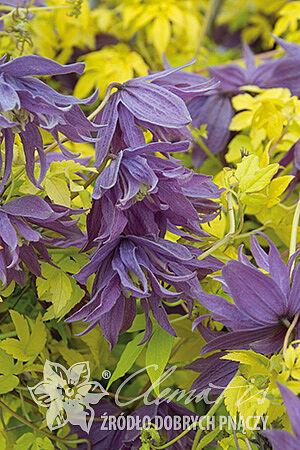 Atragene Group
Clematis LUMINOUS® DUSK
Clematis LUMINOUS® DUSK
Color of flowers
pink-violet
Plants height
2-2.5 m
Flowers size
medium
Flowering month

IV, V

IV, V
Aspect
E, W
Pruning way
1 (none)
Frost hardiness

3 - 9

Zones 3 - 9
A new Polish cultivar of golden yellow leaves and bell-shaped, pink-violet, fragrant double flowers. Blooms at the end of April and in May, and from June until autumn it is adorned by striking, fluffy seedheads. Very hardy and undemanding cultivar.
---
WHAT IT LOOKS LIKE: Medium-sized flowers, 7-9 cm across, pink-violet, double, bell-shaped, opening wide consist of 4 sepals and up to 15 long, wavy stamens. Yield delicate lemony scent. Blooms at the end of April and in May. Decorative leaves, golden yellow consist of 3-5 leaflets. From June till autumn the plant is adorned by extravagant, fluffy seedheads.
HOW IT GROWS: The vine climbs by means of leaf petioles. Moderate growth rate, reaching 3 m height.
WHERE TO PLANT: Tolerates semi-shade but obtains the best colouring in well-lit locations. It has low soil requirements. Thrives in average, moderately moist, well-drained soil. The pH of the substrate should range from neutral to slightly acidic. Hardy (zone4-9).
HOW TO PLANT AND GROW: Place the plant in a pit (60 x 60 x 60 cm) with fertile soil and a 10 cm draining layer at the bottom, 0.5-1.0 cm deeper than it grew in the container (planting tutorial). It is easy to grow. Does not require pruning. Only when it starts spreading excessively, pruning should be performed after the flowering season (pruning tutorial).
HOW TO APPLY: Recommended especially for growing over low fences, stones, old tree trunks as well as deciduous or coniferous shrubs. May be applied as a groundcover.
ORIGIN: Raised by Szczepan Marczyński, Poland. Available from 2023 r. More about our cultivars…
SIMILAR CULTIVARS: LUMINOUS®SNOW, 'Purple Dream'PBR