kiwi berry, hardy kiwi (bower actinidia, tara vine) 'Bingo' PBR
Actinidia arguta 'Bingo' PBR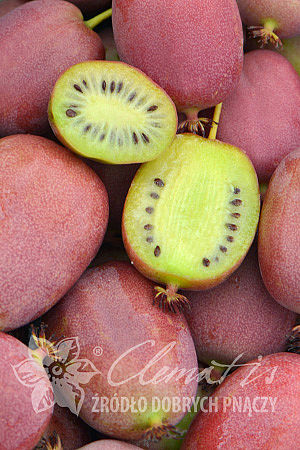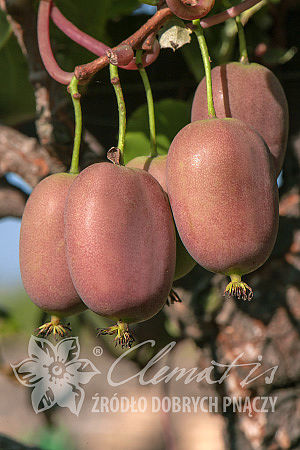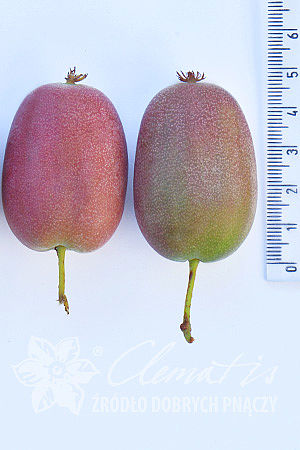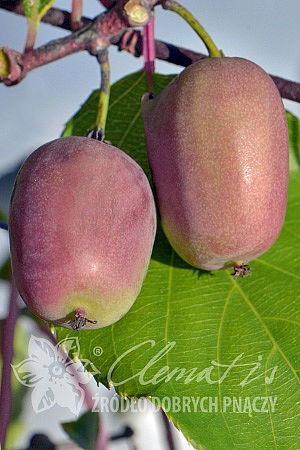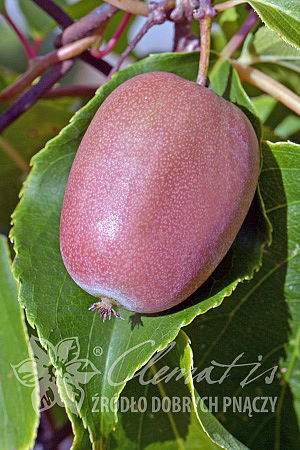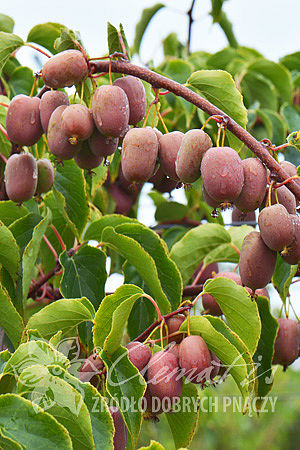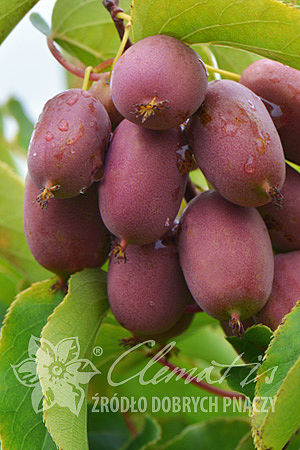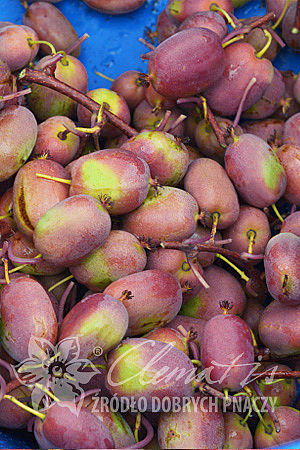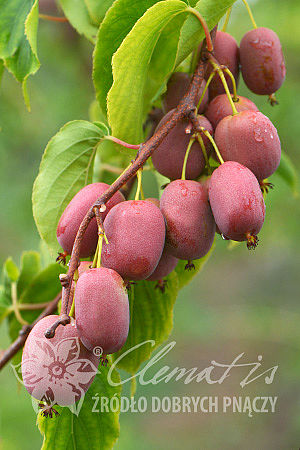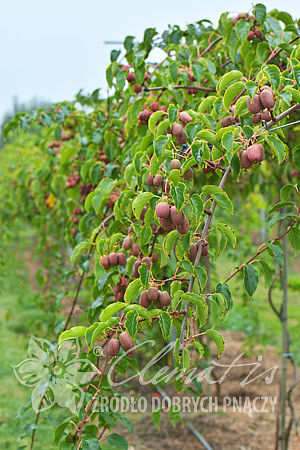 kiwi berry, hardy kiwi (bower actinidia, tara vine) 'Bingo' PBR
Actinidia arguta 'Bingo' PBR
Decoration form
edible fruits, leaves
Color of flowers
white
Flowering month

V, VI

V, VI
Evergreen plant
no
Plants height
8 m
Annual growth
2 m
Aspect
, ,
Frost hardiness

5 - 8

Zones 5 - 8
A Polish plentiful cultivar yielding tasty, aromatic berries with a pineapple flavour. Recommended for production plantations and house gardens.
---
WHAT IT LOOKS LIKE: Fruit ovate-oblong, ca. 3 cm long and 2.5 cm across, 8-14 g weight, with a pronounced reddish-pink blush. Tasty, aromatic berries with a pineapple flavour and edible skin ripen from the end of September till the beginning of October, later than 'Geneva' cultivar but earlier than 'Weiki' and 'Ananasnaya'. The plant yields fruit in the 2nd-3rd year after planting. For the fruit to set and yield, a male plant is needed in the vicinity (e.g. male 'Weiki'; at the production plantations 1 male plant is provided for 6-8 female ones). Coiled shoots twine around supports.
HOW IT GROWS: A rampant climber reaching 8 m height, with a 2 m annual growth.
WHERE TO PLANT: The plant requires a warm, sunny and wind-protected site and moist but well-drained and fertile soil. Sustains frosts up to ˗28oC (Zone 5˗8).
HOW TO PLANT AND MAINTAIN: Before planting immerse the plant container in water for 10-30 min. Place the plant in a 40 x 40 x 40 cm hole covered at the bottom with a 10 cm of well-rotten manure or compost, 1 cm deeper than it was before. Fill in the hole with fertile soil. Keep at least 30 cm distance from walls or other plants, 2-4 m apart from each other. Prune hard in January-February; light pruning advisable in June. Repeat pruning in August. Cover the ground around the plant with bark mulch. From the second year after planting fertilize the soil starting in April. Water abundantly in vegetative season.
HOW TO APPLY: Particularly suitable for production plantations, house gardens and allotments. Recommended for planting along various supports – arbours, pergolas and net fences. It can be trained also along wires stretched between poles.
ORIGIN: Raised by Piotr Latocha D. Sc. at the Life Science University of Warsaw. Introduced in the market by Clematis The Source of Good Climbers in 2015.
AWARDS: Gold medal on FlowersExpo 2015, Moscow (Russia). More about awards...