arctic kiwi 'Vitakola'
Actinidia kolomikta 'Vitakola'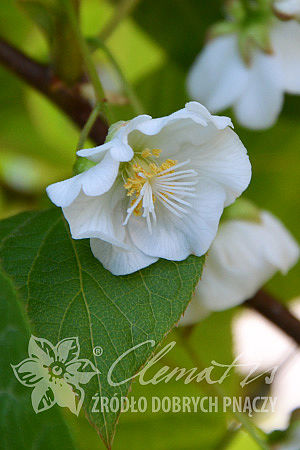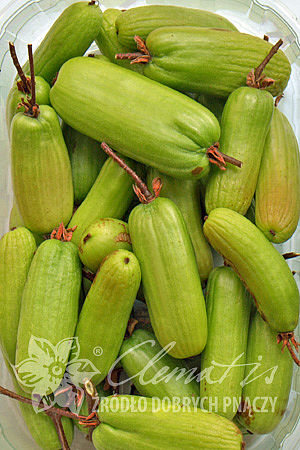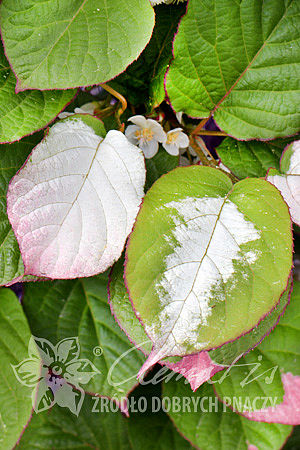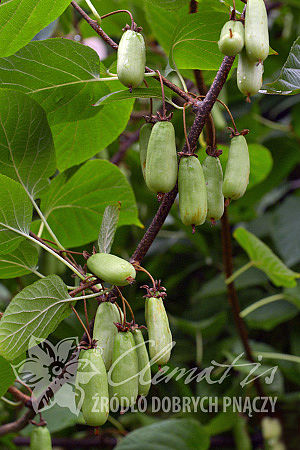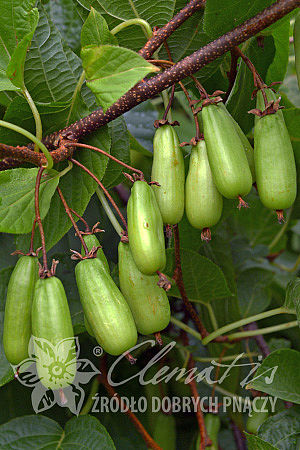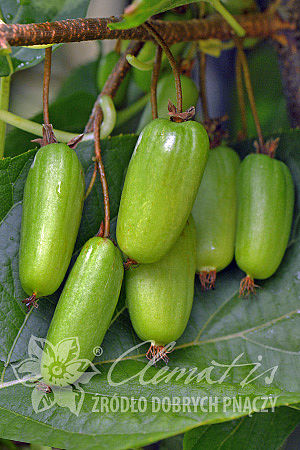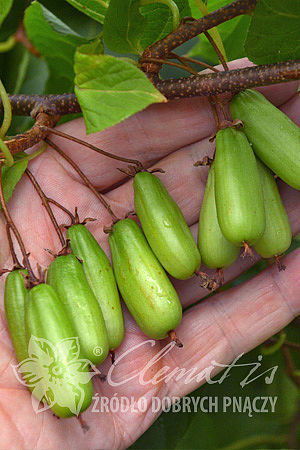 arctic kiwi 'Vitakola'
Actinidia kolomikta 'Vitakola'
Decoration form
leaves, edible fruit
Color of flowers
white, with fragrant
Flowering month

V

V
Evergreen plant
no
Plants height
3-4 m
Annual growth
1-2 m
Aspect
, ,
Frost hardiness

4 - 8

Zones 4 - 8
An excellent Czech cultivar yielding a bounty of tasty fruit, exceptionally large for this species. With its ornamental leaves and lemon scented flowers it is an attractive feature in any garden.
---
WHAT IT LOOKS LIKE: Fruit large, oval, 4-4.5 cm long, sometimes slightly flat, greenish-yellow, tasty and aromatic, often in clusters of 2-3 berries on long pedicles. They ripen and fall in August. Rich in vitamin C (1520 mg%). To yield fruit it requires ca. 130 days without frost. The plant yields fruit in its 3rd-4th year. A female cultivar which requires a male pollinator, e.g. cultivar 'Adam') Flowers small, 1.5-2 cm across, white with a delicate lemony scent, borne in May. Leaves ornamental, green or green-white-pink. The variegation appears 2-3 years after planting and is most pronounced on well-lit leaves. Shoots twining.
HOW IT GROWS: A twining climber of moderate growing strenght, reaching 3-4 m with annual growth of 1-2 m.
WHERE TO PLANT: The plant requires warm, sunny, wind-protected sites. Its preference is for moist but well-drained soil, slightly acidic or neutral. Sustains frosts up to ˗34°C (Zone 4˗8). Frost sensitive during vegetative season.
HOW TO PLANT AND MAINTAIN: Before planting immerse the plant container in water for 10-30 min. Place the plant in a 40 x 40 x 40 cm hole covered at the bottom with a 10 cm of well-rotten manure or compost, 0.5-1 cm deeper than it was before. Fill in the hole with fertile soil. Plant at least 30 cm from walls or other plants. The cultivar is easy to maintain. Prune in late autumn or winter (Jan-Feb) or in summer when the new shoots have turned woody, otherwise it 'bleeds'.
HOW TO APPLY: The cultivar is particularly suitable for small and large house gardens both as an ornamental vine and a source of fruit.
ORIGIN: Raised in Czech Republic by Jan Kola. Introduced in the market by Clematis The Source of Good Climbers in 2015.
AWARDS: honorable mention at Zieleń to Życie 2015 (Poland). More about awards...