Trumpet creeper 'Guilfoylei'
Campsis ×tagliabuana 'Guilfoylei'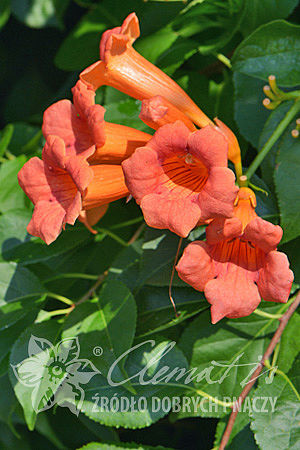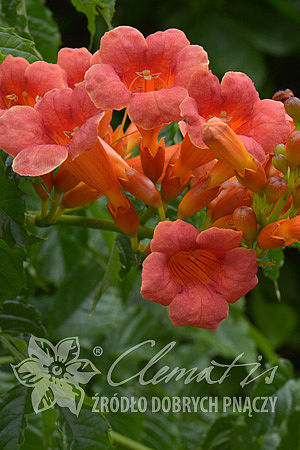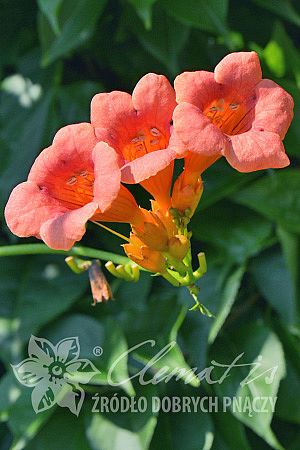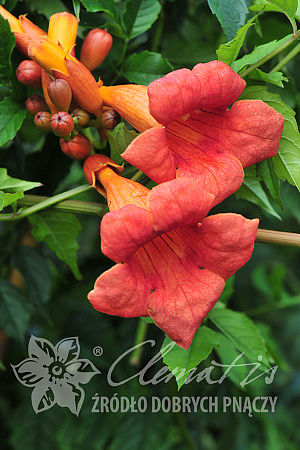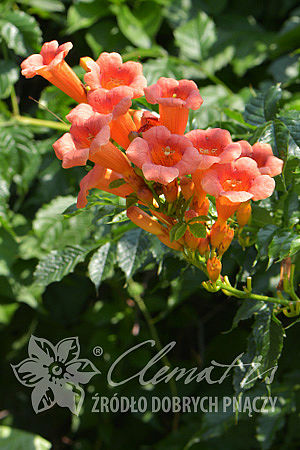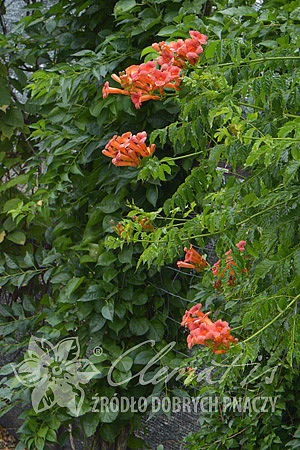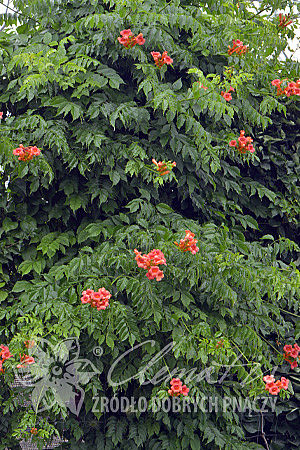 Trumpet creeper 'Guilfoylei'
Campsis ×tagliabuana 'Guilfoylei'
Decoration form
flowers
Color of flowers
orange
Flowering month

VII, VIII, IX

VII, VIII, IX
Evergreen plant
no
Plants height
4 m
Annual growth
1-2 m
Aspect
, ,
Frost hardiness

6 - 8

Zones 6 - 8
A climber of moderate growing strenght and attractive, large, trumpet-shaped orange-red flowers. Blooms abundantly from July till September. Recommended for warmer parts of Poland and areas of mild climate.
---
WHAT IT LOOKS LIKE: Attractive, large flowers, 6 cm long, 6.5 cm wide, orange to red, trumpet-shaped. Blooms abundantly from July till September. Ornamental leaves consisting of 11-15 eliptic, dentate leaflets. Blooms in the 2nd-3rd year after planting.
HOW IT GROWS: A climber; shoots supported by aerial roots; new shoots require tying to supports. Moderate growing strenght, reaching 4 m height with an annual growth rate of 1-2 m.
WHERE TO PLANT: Thrives in warm, sunny, wind-protected sites, prefers moderately fertile, not overly moist soil. The cultivar isn't fully hardy (Zone 6˗8). Susceptible to freezing during harsh winters but it can be rejuvenated. Recommended for warmer parts of Poland and areas of mild climate.
HOW TO PLANT AND MAINTAIN: Before planting immerse the plant container in water for 10-30 min. Place the plant in a 40 x 40 x 40 cm hole covered at the bottom with a 10 cm of well-rotten manure or compost, 5-10 cm deeper than it was before. Fill in the hole with fertile soil. Plant at least 30 cm from walls or other plants. For the first couple of years the plant base should be covered and the ground around it spread with bark mulch. Fertilize from April, water abundantly in vegetative season. Before winter cover the base up to 10 cm from the ground. Prune hard. In the first year cut back to 10 cm over the ground, in the following springs (end of March-April) prune the new shoots above the 2nd-3rd node. Remove the root sprouts.
HOW TO APPLY: Suitable for growing along various supports, e.g. arbours and pergolas. Particularly useful for covering walls and strong supports as well as for concealing unsightly constructions.

ORIGIN: Cultivar obtained by crossing Campsis grandiflora (Chinese Trumpet Vine) and Campsis radicans (American Trumpet Vine, Trumpet Creeper, Hummingbird Vine) in 19th century.