Viticella Group
Clematis 'Mazurek'PBR
Clematis 'Mazurek'PBR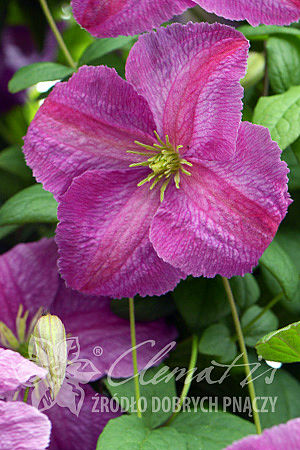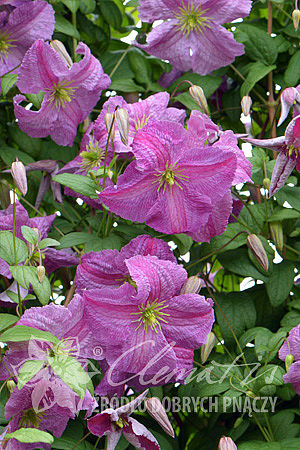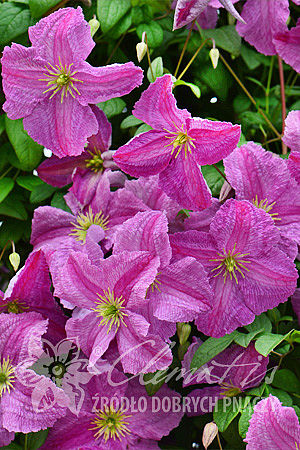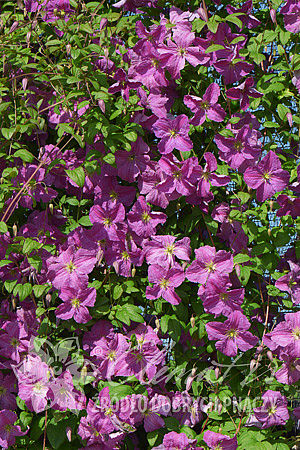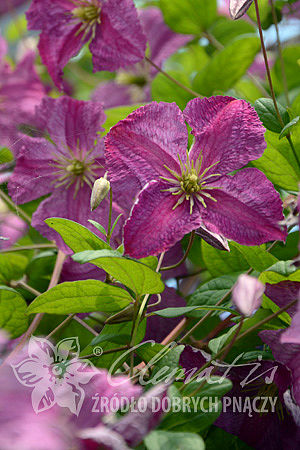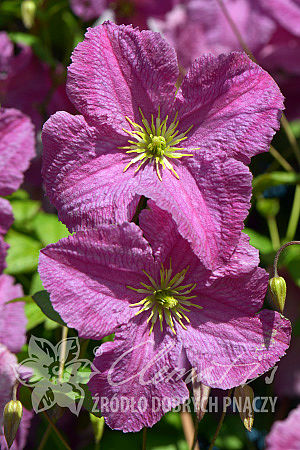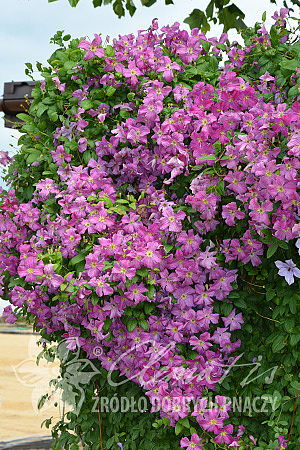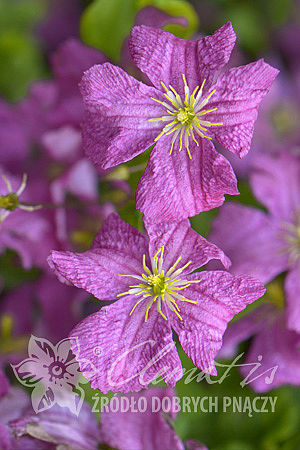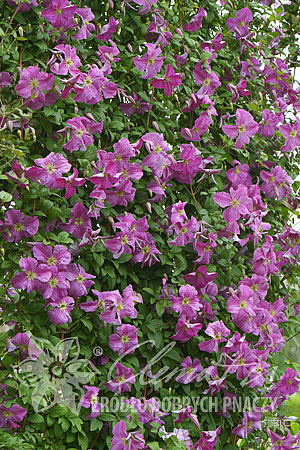 Viticella Group
Clematis 'Mazurek'PBR
Clematis 'Mazurek'PBR
Color of flowers
bright pink
Plants height
3 m
Flowers size
medium
Flowering month

VI, VII, VIII

VI, VII, VIII
Aspect
S, E, W
Pruning way
3 (hard)
Frost hardiness

4 - 9

Zones 4 - 9
A Polish cultivar raised by Szczepan Marczyński. Strong growing vine covered from June till August with a mass of bright pink flowers. Suitable for container cultivation.
---
WHAT IT LOOKS LIKE: Flowers medium-sized, 8-10 cm across, roundish, open, facing up and sideways, consisting in 4 wide, eliptic, pink sepals with a bright pink, wide bar along the middle. They have a nice texture, wavy margins and curled-out tips. A bunch of light-yellow pistils encircle short stamens (ca. 1 cm) consisting of yellow anthers on green filaments. Blooms profusely in June-July and continues moderately until August.
HOW IT GROWS: Vine climbing by means of leaf tendrils, strong growing. Reaching 3-3.5 m height.
WHERE TO PLANT: Thrives in the sun and semi-shade in medium or even poor soil. The soil pH should be neutral to slightly acidic. Frost hardy (Zone 4-9).
HOW TO PLANT AND MAINTAIN: Place the plant in a 60 x 60 x 60 cm hole of fertile soil with a 10-cm layer of drainage at the bottom, 5-10 cm deeper than it was in the container. Plant at least 30 cm from walls or other plants. Keep the plant base in a shade. In early spring (Feb-March) remove the old shoots and prune the new ones above the lowest strong buds – around 30 cm above the ground in the first year, 40 cm – in the second year and 50 cm in the following years. Cover the gound with bark mulch and for winter protection pile it up to 10 cm. In April fertilize with Osmocote 5-6M; water abundantly in vegetative season.
HOW TO APPLY: Recommended for training along fences, arbours, pergolas and other garden supports. Looks particularly attractive when intermingled with shrubs or other vines. Light background adds decorative value. Suitable for container cultivation.
ORIGIN: Raised by Szczepan Marczyński, Poland in 2015.
SIMILAR CULTIVARS: 'Krakowiak', 'Abundance'.