Purple Chokeberry 'Nero'
Aronia ×prunifolia 'Nero'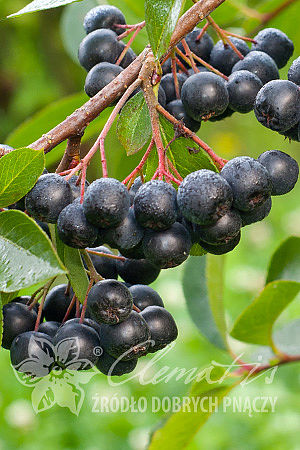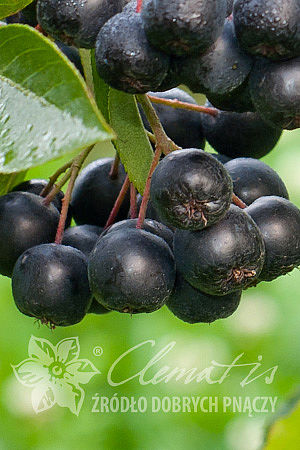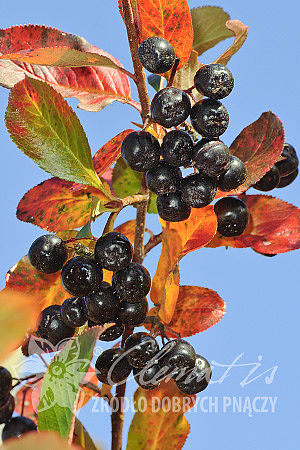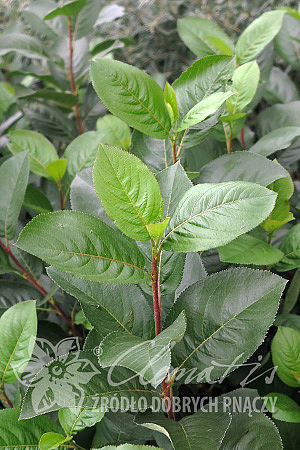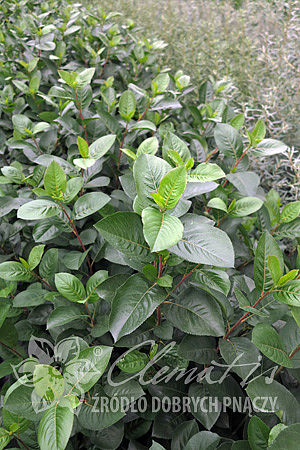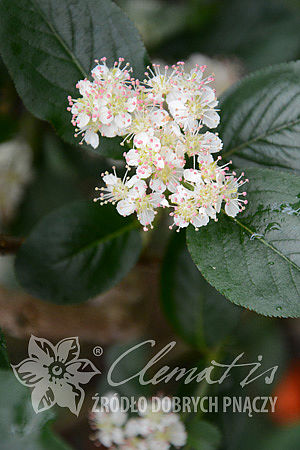 Purple Chokeberry 'Nero'
Aronia ×prunifolia 'Nero'
Decoration form
leaves which turn red in autumn, edible fruits
Color of flowers
white
Flowering month

IV

IV
Evergreen plant
no
Density on 1 m2
1
Annual growth
0.5-0 m
Aspect
, ,
Frost hardiness

4 - 7

Zones 4 - 7
A cultivar of quite large, round, juicy, sweet, dark-blue-violet berries gathered in clusters. Leaves turn striking red in autumn. Perfect for house gardens as well as for production plantations.
---
WHAT IT LOOKS LIKE: Fruit are large, shiny dark-blue-violet, edible, sweet and juicy berries, 1-1.5 g each, gathered in clusters. Ripen from the end of August – September. If left on the branches they are an ornamental feature. In autumn birds feed on them. Flowers decorative, white with red stamens, gathered in inflorescences, appear on the plant in April-May. Leaves decorative, glossy dark green in vegetative season, turning red in autumn.
HOW IT GROWS: A shrub of erect shoots, of a shape reminding an upside down cone. This cultivar is more compact than the average in the species. Fast growing up to 2 m height with an annual growth rate of 0.3-0.5 m.
WHERE TO PLANT: Yields fruit most successfully in sunny sites, well-drained, neutral or slightly acidic soil. It is a tolerant plant and does not require soil acidifying like, for example, American blueberry (northern highbush blueberry). A robust cultivar, rarely affected by pest or disease. Fully hardy (Zone 4-7).
HOW TO PLANT AND MAINTAIN: Before planting immerse the plant container in water for 10-30 min. Place the plant in a 40 x 40 x 40 cm hole covered at the bottom with a 10 cm layer of well-rotten manure or compost, 0.5-1 cm deeper than it was before. Fill in the hole with fertile soil. On production plantations, the planting distance is 0.5˗0.7 x 4 m to enable mechanical harvesting. Does not require regular pruning. When the plant thickens after a couple of years, thinning is recommended. Too much pruning reduces crop.
HOW TO APPLY: A shrub recommended for amateur cultivation in house gardens as well as for production plantations (also ecological ones). Fruit rich in vitamins (especially vitamin C), minerals and antioxidants. Used for juice, syrup, jam and cordial production. Plant recommended also for landscape shaping, e.g. as hedges, erosion control measure or borders (berries attract birds).
ORIGIN: Most probably originates from Russia. In the 70. found its way from Slovakia to Germany where it was popularized on a larger scale.