Purple chokeberry 'Aron'
Aronia ×prunifolia 'Aron'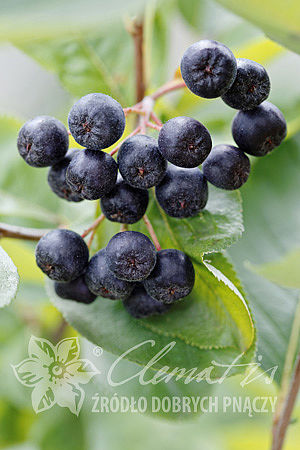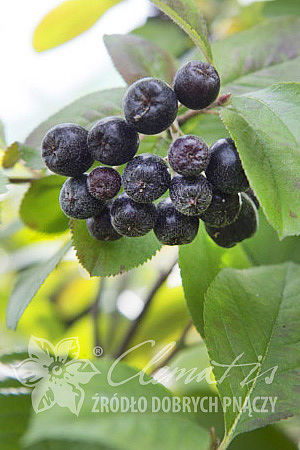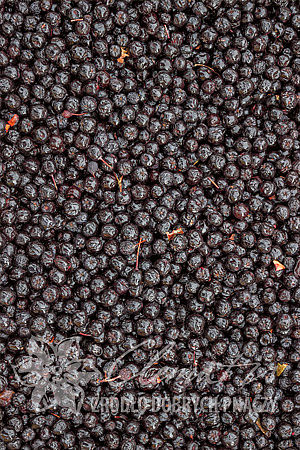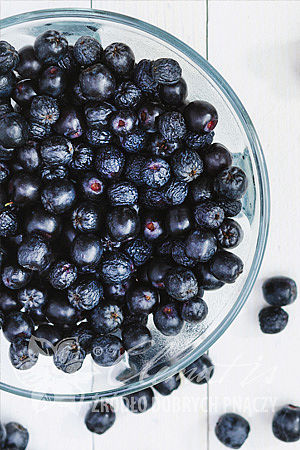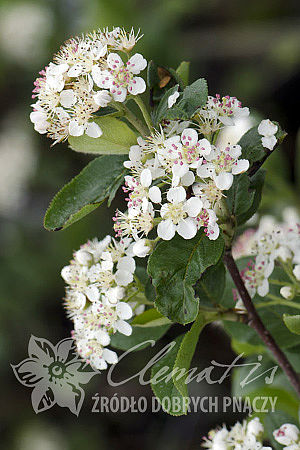 Purple chokeberry 'Aron'
Aronia ×prunifolia 'Aron'
Decoration form
leaves which turn red in autumn, edible fruits
Color of flowers
white
Flowering month

IV

IV
Evergreen plant
no
Density on 1 m2
1
Annual growth
0.5-0 m
Aspect
, ,
Frost hardiness

4 - 7

Zones 4 - 7
A shrub of tasty, decorative fruit and attractive leaves turning colour in autumn. The cultivar yields quite large, round, black-purple berries gathered in clusters. Ideal for house gardens as well as for plantations.
---
WHAT IT LOOKS LIKE: Berries edible, round, black-purple, 1 cm across. Ripen between the end of August and September. When left on the bush, they're a decorative feature and attract birds in autumn. Remarkable flowers, white with red stamens, gathered in corymbs appear in April-May. Leaves decorative, dark green and glossy during vegetation season, in autumn turn red.
HOW IT GROWS: Shrub of an upright habit the shape of an upside-down cone. The cultivar is more compact than the average of the species. Fast-growing, reaches 2 m height. Annual growth rate ca. 0.5 m.
WHERE TO PLANT: Yields fruit best when planted in a sunny site and in well-drained soil of neutral or slightly acidic pH, but it's a tolerant plant. Does not require acidifying of the soil, as opposed to highbush blueberry. A healthy cultivar, unsusceptible to diseases and pest. Fully frost hardy (zone 4˗7).
HOW TO PLANT AND MAINTAIN: Before planting immerse the plant container in water for 10-30 min. Place the root ball in a 40 x 40 x 40 cm hole with a 10 cm layer of well-rotten manure or compost, 0.5-1 cm deeper than it was before. Fill the hole with fertile soil. On plantations, the required plant spread is 0.5-0.7 x 4 m for mechanical harvesting purpose. Does not require regular pruning. When the bushes thicken after a couple of years, a thinning may be necessary. Excessive pruning limits the fruition.
HOW TO APPLY: The shrub recommended for amateur cultivation in house gardens as well as for plantations (also organic ones). Suitable also for landscape shaping as a hedge and for erosion control or as a field border – the berries are a source of food for many birds. The fruits are rich in vitamins (vitamin C especially), minerals and anti-oxidants. They are used for juice, syrup, jam and tincture production.
ORIGIN: Most probably native to Russia.