Five-leaf Akebia (Akebia quinata) belongs to the family Lardizabalaceae and is native to Far East (China, Japan, Korea). It is a climbing shrub with twining stems and palmate deep green leaves composed of 5 leaflets (similar to Schefflera leaves). It is semi-evergreen and only sheds leaves after a big freeze. It grows up to 5-10 m high (1-3 m per year). It produces both female and male flowers on one plant.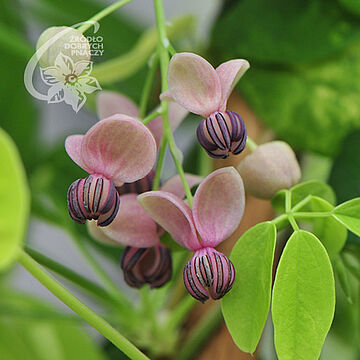 Male flowers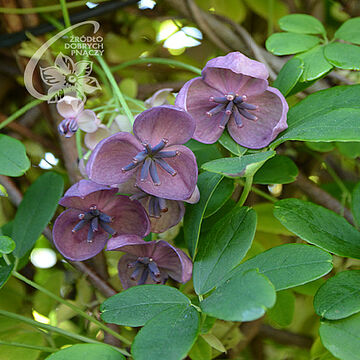 Female flowers
Small clusters consisting of bigger (2-3 cm across) chocolate-purple female flowers and smaller (0,5-1 cm) pink male flowers appear at the turn of April and May. The flowers give off a slightly spicy scent which may be an additional highlight when akebia grows next to the window, a gate or climbs up an arbour. The plant also bears very intriguing fruit. Grouped in sets of 2-3 (sometimes a lot more) oblong sausage-like pods, 10-13 cm long, ripen in October. Violet outside, they crack on ripening revealing white pulpy core with dark seeds. Only the pulp is edible: sweet in taste with a slightly melon aftertaste.
Akebiasets fruit most profusely in case of cross pollination, so it's best to plant different cultivars or species at close proximity. If you want to increase crop, you may try pollinating the flowers on your own, by brushing male flowers of one cultivar against the female flowers of another.
Akebia quinata
Akebia quinata 'Variegata'
Akebia quinata 'Silver Bells'
Akebia quinata 'Alba'
Apart from the species, several different cultivars are in cultivation:
'Alba' – white male and female flowers, white-green fruit.

'Silver Bells'

– white bell-shaped male flowers with pink-purple stamens. Pale pink female flowers have a chocolate pistil. White-green fruit, lighter in colour than that of the species.

'Variegata'

– green and white variegated leaves, pale pink flowers. Leaf variegation is more pronounced in full sun. Fruit is smaller than that of the species and is also mottled with white. It's less rampant than the species. All green leafed shoots should be cut out.
Akebia trifoliata
Three-leaf akebia (Akebia trifoliata) - an attractive climber with twining stems. Deciduous palmate leaves are divided into three wavy edged leaflets. Stems are violet when young and brown at maturity. Small deep purple flowers (both male and female) are borne in clusters in May and have a delicate cinnamon scent. Very interesting fruits, resembling a sausage in shape, are bigger than those of Akebia quinata (up to 13 cm long). Best planted in a sheltered position. It can be trained up various kinds of garden supports, or alternatively, allowed to climb up a tree. More sensitive to frost than Akebia quinata.
Requirments
Akebia can grow in almost any position and in any ordinary soil but it doesn't like shade or direct midday sunlight. It is sufficiently frost hardy to grow in a cool climate such as the Polish one, and although it may freeze in severe winters, in spring new shoots will appear at the base.
Application
Owing to its vigorous growth and attractive thick and healthy foliage, it can quickly create a cover or a shady spot. Ideal for creating screens, covering arbours, pergolas, gates and fences, it can also climb up trees (but be careful that it doesn't choke them) and grow over supports against walls. Akebia is suitable as a ground cover plant to cover large areas. Whatever the use, it will give an exotic touch to your garden.